Plant Scientist's Research Ranked on Top Ten Breakthrough List for 2009
---
UC Riverside Plant Scientist's Research Ranked on Top Ten Breakthrough List for 2009
Sean Cutler's lab showed how a plant stress hormone helps plants survive drought – rankings by Science magazine
(December 17, 2009)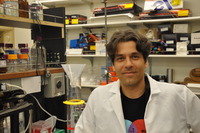 Sean Cutler is an assistant professor of plant cell biology in the Department of Botany and Plant Sciences at UC Riverside. Photo credit: UCR Strategic Communications.
Research by Sean Cutler, a young scientist at the University of California, Riverside has been named by
Science
magazine as one of the top 10 breakthroughs of the year.
In April 2009, Cutler showed how abscisic acid (ABA), a naturally-produced plant stress hormone, helps plants survive by inhibiting their growth in times of drought – research that has important agricultural implications.
The openness with which Cutler, assistant professor of plant cell biology in the Department of Botany and Plant Sciences, shared information with other scientists in his highly competitive field of plant cell biology led, in just months, to six research papers in journals like
Science
and
Nature
that were authored by collaborator and other labs working in the field.
Today, because of Cutler's significant contribution to finding ABA, scientists are getting closer to determining how plants survive drought, with huge implications for agriculture particularly in regions where water and drought are such big concerns.
Read about Cutler's research
here
.
Read
here
about how his work spawned intense interest among plant scientists to nail down how exactly plants and crops survive drought.
"I believe Sean's discovery is the most significant finding in plant biology this year and will have profound effects on agriculture worldwide," said Natasha Raikhel, the director of UC Riverside's Center for Plant Cell Biology, of which Cutler is a member.
Science
magazine tapped the discovery of
Ardipithecus ramidus
, the 4.4 million year old creature that may be a human ancestor, as the most important scientific breakthrough this year. Team leader Tim D. White earned his undergraduate degrees in anthropology and biology at UCR in 1972.
---